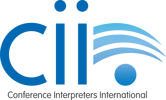 Conference Interpreters International
Specialising in tailor-made language solutions to match your multilingual communication needs
In 1990, a group of senior Brussels-based conference interpreters established Cii to provide a truly professional service to clients worldwide.
Since then, Cii has organised thousands of international events to the satisfaction of its clients and established itself as the undisputed standard-setter in the field.
We know from experience that each client, and each meeting is unique. Call us and we will be happy to discuss your needs and suggest the best solution to make your multilingual event a real success.